We all love getting to use a nice photo or video that we took ourselves, but here's the thing: good photography isn't always easy or convenient to produce, and sometimes, whatever you have on hand just won't cut it.
What's more, there are artists who specialize in the sorts of creations that can impress and enthrall an audience, and even complement the tone of your service.
With this in mind, we've put together a list of some of the best stock media resources that we could find. Take a look!
Unsplash: Your Versatile Friend in Stock Media
It should be no surprise that we love Unsplash. It's convenient, it's free, and thanks to a solid group of contributors, has lots of stock images that a church could use.
Furthermore, we use it all the time. The featured image for this very article was uploaded to Unsplash by Shaun Frankland for everyone's use and enjoyment. Thanks, Shaun!
For your convenience, we've put together some searches that should help you find great church stock photos on Unsplash. Bookmark this article so that you can come back to these nifty links:
A quick word to the wise, though: Consider doing a Google Images search or other investigation to make sure that you're in the clear. You could theoretically get in trouble if you used a photo that was uploaded without the permission of the owner. It's not supposed to happen, but it is possible.
Since 2016, Visual Media Church has been providing premium motion backgrounds and still images for worship, sermons, and other applications. This really is some high quality stuff, and VMC's reviews on the internet are a testament to that fact.
There is free content available on their website, but the best stuff comes with a price. With subscription options that cost as little as $12.50 a month, though, there's something for every church's budget!
Now, we know that the name suggests a sermon archive, and you can definitely find sermons at Faithlife Sermons, but it's also home to thousands of videos, motion backgrounds, and images that can be used for all kinds of things, and they come in a variety of formats.
There are two great things we want to point out about this option:
There's just one tier: You get access to everything for $19.99 a month.
They offer a 30-day free trial, so you can try it out for a month and see if it's a good fit!
Disclosure: The owner of Best Church Stuff is affiliated with Faithlife.
In 2014, a guy named Daniel Leeves from London took it upon himself to curate some of the best free images that he could find and distribute them to the Church around the world. A few years and dozens of photographers and Kickstarter backers later, freelyphotos.com stands as an impressive repository of photos that you can use, with absolutely no strings attached.
The photos published on this website, which is being billed as a beta product, are are licensed under a Creative Commons Zero (CC0) license (or equivalent), which means that they are completely free to download, copy, modify, or distribute, whether for commercial or noncommercial purposes.
Definitely check out this great free resource, and if you really like the project, they're also accepting donations to keep it going!
Last, but not least, we want to tell you about Sharefaith. This company is known for a great many things, but today we're highlighting their robust collection of "church graphics and creative church resources."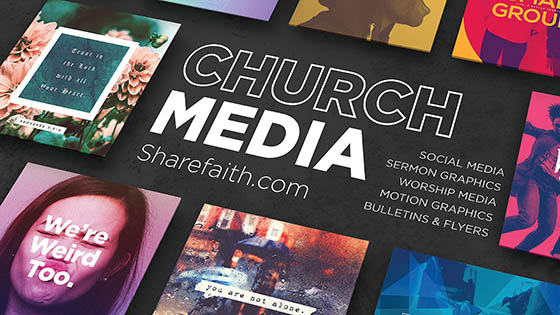 With 90,000 items, you're sure to find something that you can use, and you can have access to all of it for $30 a month or $300 a year. And, right now, they're advertising a 7-day free trial that gives you a free, fully downloadable graphics pack that you can use today, so check it out!
Enhance Your Services with Church Stock Media
Nowadays, there's a plethora of great options for churches that want to improve their graphics game without taking away from the valuable time that their staff members need to spend on their ministry.
We've only shown you a sample of what's available to you on the web, but we sincerely hope that it helped! Looking for more tools and resources for your church? Check out our homepage at BestChurchStuff.com.